Are there any benefits of Multiplex and cinema Advertising? Yes, there are. Cinema Advertising showcases people the bigger picture of your Brand or Company. It creates an excellent visual impact on the audience, along with conveying the necessity of your products in a cinema-going experience. Cinema Advertising helps you target the intended group and their profiling as well as providing multiple advertising possibilities.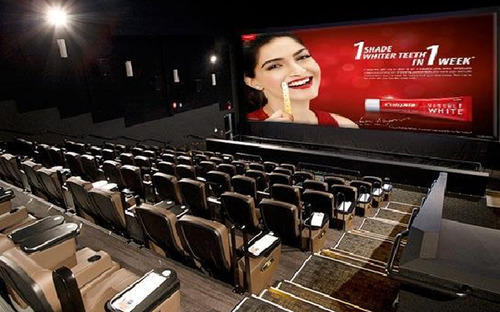 Why prefer Cinema for Advertising?
With the influx of masses in the movie theatres, Cinema has become the perfect fit for local as well as regional advertising. Local Movie Theaters in an area draw people from the targeted area. Many local businesses draw their customers from a small geographic area; say a radius of 20 miles. Therefore, most moviegoers will travel up to the same distance to a movie theater. Other sorts of advertising also reach consumers beyond their market area but Cinema Theatre Advertising is very efficient in its mass coverage.
Movie Theatre Advertising, the Most Effective Advertising Service
Movie Advertising is much more efficient. It provides businesses an opportunity to buy any demographic. So, SB Advertising Media can drill down to the targets for precision demo-targeting by harnessing the power of our research partners. We also aid in identifying films that appeal to a Business's key demos and thereafter provide program schedules as per your desired demographic. Your local ads will become more effective by delivering messages to the right audience, the market.
Theater Advertising has become a great method to reach viewers in a cinema-set captive setting. You can display video ad messages on the big screen to your audiences who are coming to see a motion picture in a relaxed and happy mood. Most cinema ads roll before the movie previews as the guests are filling in seats.
Types of Cinema Theatre Advertising
There are two types of Cinema Theatre Advertising available at SB Advertising Media, such as the following:
On-Screen Advertising
On-screen advertising is a classic advertising form to run ads on a cinema screen during the interval time or at the movie's beginning. SB Advertising Media will run all types of on-screen campaigns such as the following:
Mute Slide: SB Advertising Media can facilitate the running of single or multi-image slide ads to promote your brand on celluloid
Audio Slide: SB Advertising Media can facilitate the running of multiple slides with professional voiceover as well as background music in this type of format
Video Commercial: SB Advertising Media can facilitate the running of animation or live-action video which is full of multimedia elements. But for this, you require a sensor certificate for running a video commercial on a movie screen.
Off-Screen Advertising
Off-screen advertising is a modern approach to Cinema Theatre Advertising. Theater Property is now being utilized by the distributors to promote the brand which covers the following activities:
Product Display
Trans-Lite posters
Floor Stickers
Lobby LCD
Tent Cards
Product Sampling
Seat Cover Branding
Weekend Promotions activities
Audi Door
Washroom Branding
Side Panels
Pillars
Standee
Leaflet Distribution
Danglers and more